Rapid Raptor B version MOC building instructions
NO PHYSICAL BRICKS, ONLY DOWNLOADABLE CONTENT
With the purchase of this object you only purchase downloadable PDF instructions and
Parts List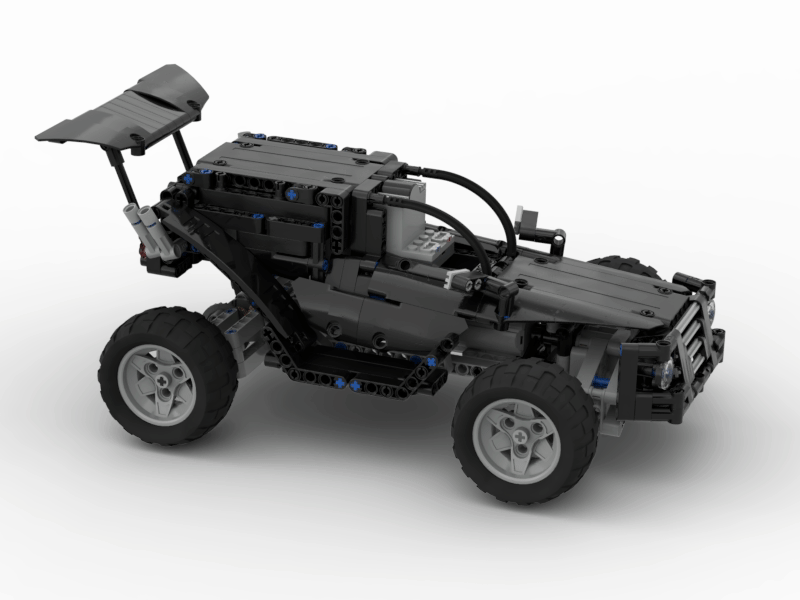 This is an aesthetically different version of the original MOC, the front grill and rear spoiler are different.
If you have been following my MOC releases, you know my previous two (the "Red Arrow SUV" and the "Sporty SUV") shared the same chassis, which featured return-to-center steering and independent front suspension; this buggy was built upon it as well and expanded on its functionality by adding rear suspension. Ok, what so special about this chassis? Well, it doesn't use any rare parts or specialized pieces like shock absorbers, steering racks, etc… It was done using only common liftarms, connectors, axles and pins.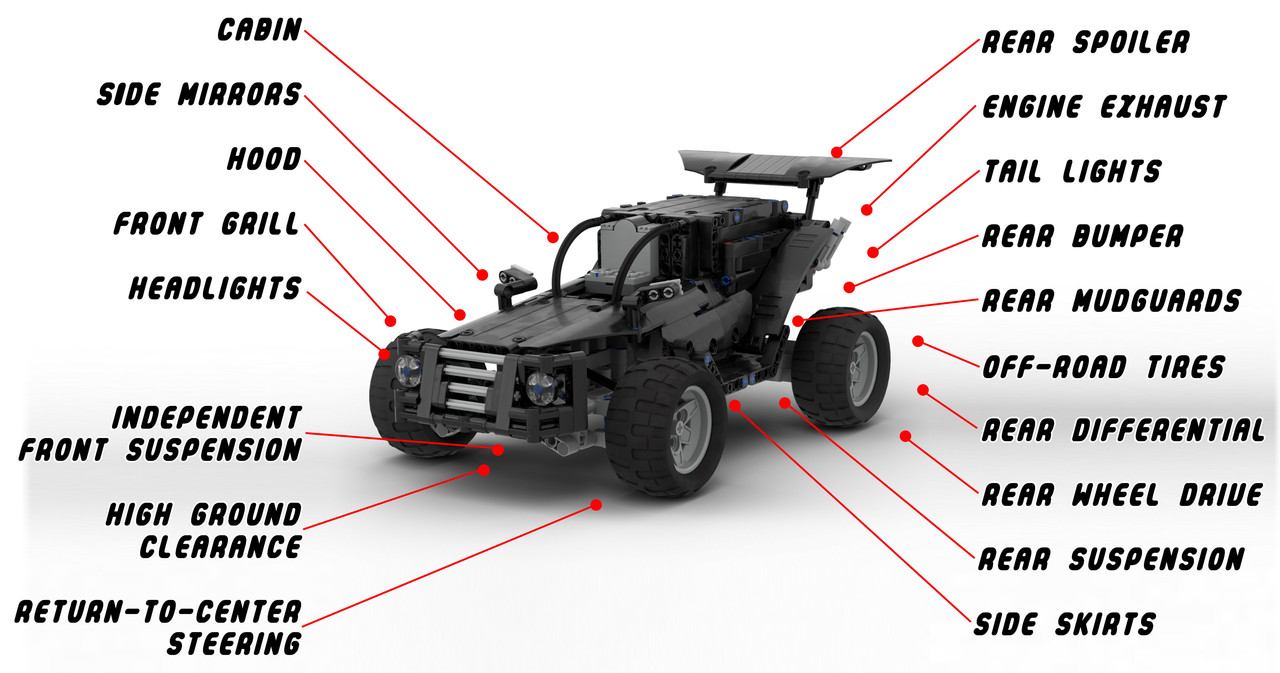 Now let's talk about the buggy itself, it's 41 studs long, 16 studs tall and 23 studs wide; i consider it to be medium-sized.
It is fully suspended, using common rubber bands, which take less space and are surprisingly responsive, having decent ground clearance.
The return-to-center steering is achieved using a PF servo motor; it is RWD, a single PF l-motor drives the rear wheels with a gear ratio of 1.4:1, it is slightly biased towards torque which is expected for an off-roader but it still runs fast as you can check on the video below.
The PF battery box is hidden by the buggy body and inaccessible, but the button to turn it on or off is linked to the rear bumper, which can be pulled or pushed to operate it.
The IR receiver is occupying the cabin, this way the sensor can receive the light from every direction.
The rear axle is exposed and while many may see this as an unfinished section, i left it that way intentionally because i like to see the gears working and the suspension doing its job; a MOC should be the reflection of its creator.
This is a MOC meant to be played outdoors, so i highly recommend using a bluetooth solution if you can, because the IR receiver is useless under daylight.
I hope you liked it and see you on the next MOC!
NO PHYSICAL BRICKS, ONLY DOWNLOADABLE CONTENT
With the purchase of this object you only purchase downloadable PDF instructions and
Parts List
Hello everyone, i have been playing with LEGO since i was a small child and i love it to this day. As i grew up, i came to like the Technic line the most. I will always prioritize fun over realism, extreme details, or complex mechanical prowess on my builds, but i do like a consistent design, so expect balanced builds from me.